Focus on the 2019 Global Industry event
Topics : Carnot's news
Release :12/03/2019
From the 5th to 8th of March 2019, the Carnot network has displayed a corporate stand on the "Global Industrie" event dedicated to the industry of the future, at Eurexpo, Lyon (France).
The Carnot network, as a true motor for innovation, was present through a stand which gathered the offers of its various institutes. It was also an opportunity to display innovative demonstrators and breakthrough technologies from the Carnot Institutes, such as:
3D reconstruction of buildings with a smartphone;
Switched cells technology that revolutionizes the field of batteries;
Stand-alone heating moulds for structural parts made of composite materials;
Immersive virtual reality training of maintenance operators;
High quality optical devices which are lighter and more compact for digital devices;
>>> Find more detailed information about these demonstrators (French only)

Carnot Energies for the Future Institute was present at this major event by displaying a demonstrator (SIGMA CELLS) in close collaboration with Carnot LETI and through a pitch with SEED Energy.
About Carnot Energies for the Future and SEED ENERGY partnership
SEED ENERGY supports stakeholders of the energy transition by developing multi-technologies and multi-energy intelligent systems to foster the renewable energies integration. Its software model ODYSSEY has been developed thanks to R&D projects driven by Carnot Energies for the Future which has also participated to SEED ENERGY's maturation.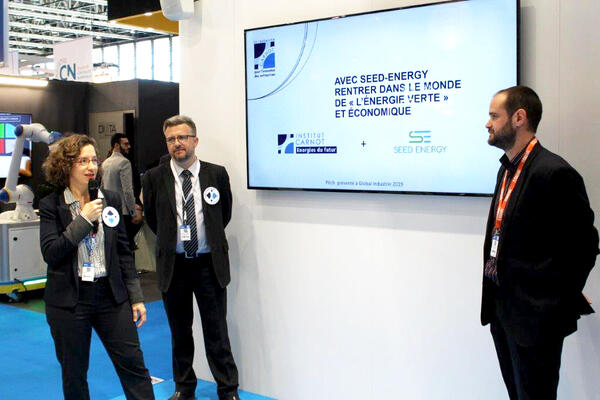 About SIGMA CELLS: an uprising technology: batteries for e-mobility
SIGMA CELLS is a switched cells technology that revolutionizes the world of batteries for e-transportation by revisiting the traditional architectures and using the multi-cells power source as a key benefit. With an all-in-one inverter, charger and advanced battery management system, this innovative solution ensures continuity of service and longer autonomy. Thanks to its compactness and lightness, this system is designed for various e-mobility applications regardless of the power size. Its integrated fast charger allows a direct recharge on the electrical network.