The Carnot Network
A R&D network for industry
The Carnot are organised in a network of 38 french public research centers with a shared commitment to foster industry innovation. The Carnot Label is granted to public research structures, Carnot institutes, whose have proven high-level R&I skills dedicated to foster innovation with industrial partners.

This significant network is committed to develop suitable and innovative solutions for companies, from SMEs to major ones.
Carnot Institutes Network - R&I for industry
| | |
| --- | --- |
| | The Carnot Énergies du futur institute is one of the 38 Carnot labeled by the French National Research Agency (ANR). Carnot institutes are gathered in the Association of Carnot Institutes which promotes their sectors' organisation to meet the major French industrial issues. |
The Carnot network enables to develop:
A collaborative work between institutes (a wide range of multidisciplinary solutions, from academic proof-of-concept to industrial transfer).
The share and promotion of good practices to improve the partnerships' efficiency.
The Carnot Association fosters good practices to develop quality research partnership with the help of a Charter (shared values, quality, profesionnalism, strategy...).
The EnergICs project - R&I for SMEs and mid-sized companies
Carnot institutes are gathering in a consortium to support French competitiveness in the field of low-carbon energy through the EnergICs project.
| | |
| --- | --- |
| | Major players of public research in the field of low-carbon energy: Carnot Énergies du Futur, M.I.N.E.S, BRGM, ICÉEL and CSTB, are gathering in the consortium EnergICs to meet the needs of technological innovations for SMEs and medium-sized companies. |
EnergICs aims to:
Face the challenges of the energy transition;
Meet the needs of R&D for companies;
Increase companies' competitiveness;
Foster access to innovation.
In order to support companies' innovation in the field of low-carbon energy, the EnergICs consortium focuses on five key-topics: renewable energy production, conversion and infrastructures of energy flows, high-efficiency uses, smart energy grids, transversal technologies.
Supported by a dedicated commercial strength and benefiting from a wide network of technological platforms opened to projects with companies, EnergICs offers crucial competences and R&D means to increase SMEs and medium-sized companies' competitiveness and to support the energy transition.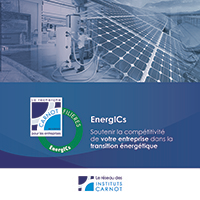 >>> Download the presentation leaflet
Carnot Énergies du futur institute is also a member of Manufacturing and Carnauto projects with the same approach of partnerships development between companies and research.
"Les rendez-vous Carnot", a convetion for business innovation
Established in 2008 by the Association of Carnot Institutes, "Les Rendez-Vous Carnot" is a two-days business convention where companies with innovation needs have the opportunity to meet exhibiting players, R&D providers (and a few structures specialising in support and assistance in research and innovation partnership).
The Carnot business meetings are a major event in the industry and French R&D field. It allows Carnot Institutes of submitting their offers and meet companies to know their needs. B-to-B meetings are organised with industry to facilitate trade. The 13th edition of "Rendez-vous Carnot" will be held the 18th and 19th of November 2020 at Cité de Congrès of Lyon (France).